世界大会 大会要綱・Outline Announcement
世界大会 参加選手・Participating players
DATE
September 7th(Wed)〜 9th(Fri), 2022
Schedule
Here is the schedule for 64 participants.
Tuesday
,

September 6th

(

Evening

)

PLAYER WELCOME BANQUET
About 7:00PM
Hotel near Nasu Ogawa Golf Club

The reception will be held near the Nasu Ogawa Golf Club. Details will be announced at a later date.
Wednesday
,

September 7th

Check In
Round 1
08:30am – Group 1 (16)
10:45am – Group 2 (16)
01:30pm – Group 3 (16)
03:45pm – Group 4 (16)

Top 8 per group advance to Round 2 (32)
Thursday
,

September 8th

Round 2

10:45am – Open Division Group 5 (16)
1:30pm – Open Division Group 6 (16)

Top 8 per group advance to Championship (16)
Friday
,

September 9th

Championship Day!
1:00pm – World Championship (16)

The top 8 finishers in WC Group of 16 will be seeded into 2 groups of 4.
The top 2 finishers in each Group of 4 will advance to a final group of 4.
The top 2 finishers from the final group of 4 will advance to the finals.
These final 2 players will simultaneously hit 1 set to determine the Champion!
Place(Location)
Nasu Ogawa Golf Club
1283 Miwa, Nakagawa Town, Nasu-gun, Tochigi, JAPAN 324-0502
TEL:+81-287-96-2121
URL : https://www.nasuogawagc.co.jp/
about COVID-19
Border measures to prevent the spread of novel coronavirus (COVID-19)
https://www.mofa.go.jp/ca/fna/page4e_001053.html
※Sorce:Ministry of Foreign Affairs of Japan
Entry Fee
Free of charge
Prize amount information
The amount unit is expressed in US dollars and JPN Yen.
Exchange rate is calculated in Japanese yen at $ 1: $ 121.31.(at March 25)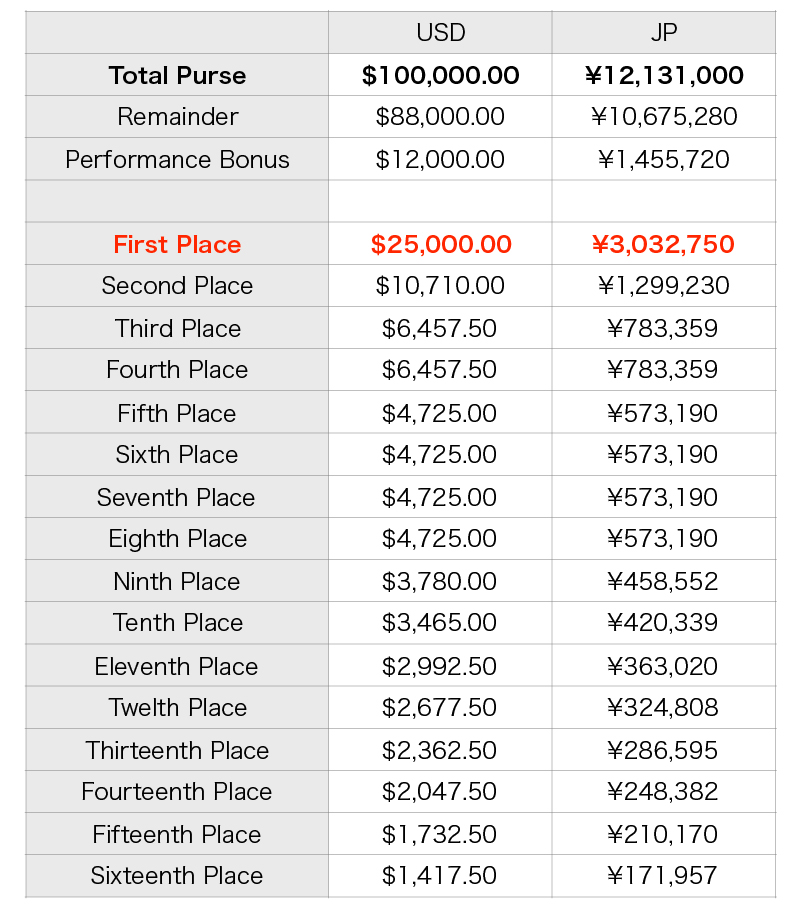 Entry
Notice to players residence in the United States.
Require to be a PLDA member to enter the Ladies World Championship 2022.
About Clubs
The clubs must have a club overall length of 48 inches or less, including the grip end.( the 60-degree measurement method).
* Club heads listed in the latest compatible driver head list issued by R&A.
Official Ball
"SRIXON X3"
URL : https://sports.dunlop.co.jp/golf/srixon/x3/
The ball is sponsored by Dunlop Sports Co., Ltd. and we will prepare for it through all games.
About an accuracy game competition
In game, the average distance of the top three balls, which hits the ball (6 balls) held within the specified time (2 minutes and 30 seconds) and stays within the effective measurement range, is contested.
The competition starts with an announcement call after all the players who will hit at the same time can see all the balls (6 balls), and after completing the tee-up. The competition finish after digest the balls (6 balls) or the time limit. It will end when the buzzer to announce sounds.
Effective measurement balls are those that have had hit by the time the timer finished buzzer to sound.* If the buzzer does not have hit when it starts to sound, it will be invalid.
About group competitions
The competition will be held in a "SET MATCH FORMAT" with 16 people per group.
* May vary depending on the number of participants.
All participating group players will compete while changing the batting order so that they can hit at the same time.
The competition of 16 players (4 games in total) is called "1 set".
4 people will be hit at the same time, and ranking will be done in the record of 4 people.
《1st place: 200pt 2nd place: 100pt 3rd place: 50pt 4th place: 25pt》
* If there is no record: The points earned will be 0pt.
While changing the batting order, the player who has completed all 5 sets (matches) and has a large number of points will be ranked high.